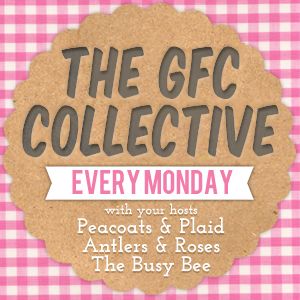 Welcome to the weekly "GFC Collective" party :) This is a link up for bloggers who want to gain followers and meet some awesome new bloggy buddies. I have met some pretty neat people by following them with GFC. It's so easy to keep up to date with all of my fav blogs :)

Not sure if this is the blog hop for you? Listen to what other bloggers have to say...
"Just to let you know, your blog hop is the best I've participated in for gaining new friends!!! I couldn't believe the results!! Thank you!"
- Danavee,
This Vintage Grove
Has the GFC Collective done wonders for your following? Let me know, shoot me an email at
peacoatsandplaid(at)gmail(dot)com
and our lovely co-hosts for the week
...want to co-host? Email Bre at peacoatsnplaid(at)gmail(dot)com