Trying something new today! I am linking up to

Digging Deaper Design

. She is a hosting a "Currently in March" post. You answer some questions about what is current in your life in this month of March!




Currently Counting Down To

: New Orleans trip in May, cannot wait for vacation!

Currently Super Proud

: of my husband, he is an amazing dude!

Currently Broadening

: my tastes, in food, clothes, shows ect.

Currently

Concluding

: that life is to short, I need to live it to the fullest!

Currently

Reading

: The Walking Dead graphic novel, well actually the husband reads it to me :)

Currently

Thinking

:

I am so blessed!!

Currently

Saving All My Pennies For

: New shoes, well a new bag but I just bought that ;)

Currently

Wanting To Travel To

: Europe, or anywhere at this point just travel!

Currently

Wanting In My Cupboard

: Dutch oven, I don't know why I would need it but I want it haha

Currently

Wanting To Learn

: How to play the guitar better, I took a class once but I stop practicing

Currently

Drooling Over

: Clothes online, want to spruce up my closet

Currently

Confessing

: I have an addiction to what my husband calls "teen dramas" currently watching One Tree Hill as I write this, love!

Currently

Listening To

: 88.1 the local radio station that plays the best music

Currently

Obsessed With

: My neighborhood, I don't want to move, hoping to buy a house in the area!

Currently

1st Place Comedic Genius

: The New Girl, makes my cry with laughter always

Currently

2nd Place Comedic Genius

: Modern Family!!

Currently

Addicted To

: bloggin hahaha

Currently

Fantasizing About

: Our first house!!!

Currently

Sad Because

: Because it seems like our friends are going to start moving away after college :(

Currently

My Motto

: Be Thankful!

Currently

Dreaming Of

: Summertime!

Currently

Needing To Update

: My apartment....needs more decor

Currently

Yearning For

: New haircolor

Currently

Want To See In My Closet

: more dress pants and killer shoes!

Currently

Enjoying

: relaxing on the couch

Currently

Have A Girl Crush On

: Rachel Bilson, her style is killer and her shoe line is amazing!

Currently

Shopping

: Nordstroms Rack all the way!

Currently

Discovered

: Shoedazzel, haven't bought anything yet but the unique shoes are great!

Currently

Redecorating

: Our picture wall in the bedroom

Currently A Few Blogs I'm Loving: Style of a Songbird, You Will Rejoice, Grace and Viola, The Lee Family Happenings and Penniless Socialite!


Also I am beyond excited to link up with Hollie's Follow Me Friday! It's back and it's so fun, make sure to join in!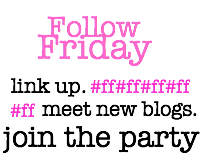 Lastly just to keep this post a little fun and interesting I am linking up for the nail files :) I finally repainted my nails. I have been postponing the shellac for a bit to save a little money so I used my trusty OPI :)