*welcome new visitors, please excuse the mess I am working on updating my layout. Thanks for stopping by*
Over at one of the blogs I follow I discovered a really awesome link up day and giveaway day! All you had to do was write a post about Valentines day and you could link up to 5 blogs! I am sure you have seen the buttons on other peoples blogs. I am excited to share with you what I have planned for Valentines day with the hubs! Make sure to click the button and check out some other great posts!!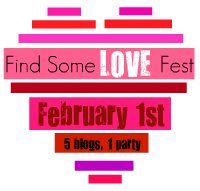 The hubs and I don't usually do special things on valentines day because as long as we have been together we have either been highschoolers or college students, aka no money! Last year he made me an amazing dinner though and cleaned the apartment :)
This year however we are going to decorate the house, have a great meal, and go to a concert!
There is a really great local radio station in our city, they play everything! They also play a lot of local music so you can support the local artists. On February 14 they are throwing their "Jammies Awards" where they award local musican's, kind of like the grammys! We have never been but hey, who can turn up free music??
I am hoping to also cook me and the hubs favorite meal, just for something special! Below is the recipe. We usually serve our steak with an artichoke and rice....sooooo good!!
For dessert I want to make gummy bear vodka shots!! They are sooo cute and I think they would make a really fun date night drink!
I don't know what to get the hub gift wise yet, we don't really do gifts we just use the day as a night to spend time together and remind eachother how much love we have :) But I am thinking of getting a card like this (or this print itself), it is soooo us!
For a gift I am thing of putting little notes all around the house about what I love about h-dawg. He did that for me once and it was sooooo sweet. I also think it would totally brighten his day!
If h-dawg felt so inclined I would love these pajamas for valentines day! I think they are fun, and I really love hello kitty, they also look crazy comfortable. They are at target for $15 I think.
I have also always wanted to decorate for valentines day but I am never ambitious enough! I am really hoping to find time to make a heart garland by valentines day :) Stay tuned I am sure I will have a post about it soon!
Do you guys have valentines plans/ideas? I'd love to hear about them or check out your blogs to see what you are planning!